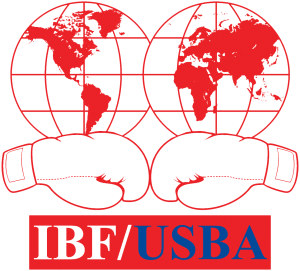 International Boxing Federation /
United States Boxing Association

The IBF/USBA
is a voluntary membership non-profit corporation organized under the laws of the State of New Jersey by interested persons for the purpose of obtaining greater efficiency and uniformity in the supervision of professional boxing and to encourage and assist professional boxing. The organization promulgates rules, suggests standards for boxing guidance, sanctions title fights to establish champions and prepares monthly ratings of the outstanding contenders in 17 weight classes. This information is shared with the press, the public and all associate members and is posted on this website.
Over the years the IBF/USBA has created different regional titles throughout the United States and around the world with the intentions of giving small promoters and young fighters an opportunity to participate. This has enabled regional and cross-regional competitions and has given professional boxers the opportunity to work their way up through the organization's ratings and reach the coveted world championship title.
The IBF/USBA also focuses on different aspects of boxing with the intentions of working towards the betterment of the sport. Consistency in the officiating of bouts has been and remains a major concern for the organization. Each year during the organization's convention, a full day is dedicated to professional seminars, including a Judge's seminar and a Referee's seminar. The main goal at these seminars is to achieve uniformity in judging and refereeing of professional boxing matches. All convention attendees are welcome to attend these seminars, but particularly those who officiate are strongly encouraged to attend for the opportunity to work together and perfect their craft. The IBF/USBA annual conventions have been attended by some of the most notable judges and referees in the sport of boxing.
Aside from officiating, the IBF/USBA also puts the utmost precedence on the health of boxers. Accordingly, a medical seminar is also held during the annual convention with the purpose of enlightening those individuals who are closest to the boxer before, during and after a fight on the signs of possible serious injury and how to potentially avoid such a situation.
The principal goal of the IBF/USBA has always been to give talented and aspiring professional boxer in the United States and throughout the world the chance of making a name for themselves by publicly recognizing their talents. The organization's unbiased ratings system has contributed to the growth, longevity and continued success of professional boxing worldwide.
Tilbage til – Internationale Forbund